---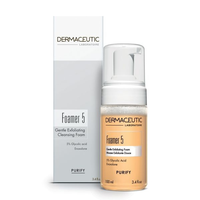 Gentle Exfoliating Cleansing Foam
Gently removes impurities and dead cells and purifies the skin.
Foamer 5 is recommended for darker or more sensitive skin with dull complexion, irregular texture and skin imperfections. Can be used as a daily cleanser.

Glycolic Acid 5%
150ml Bottle

How to use: 
Apply a small amount of foam, massage then rinse with water after 2 minutes or as soon as you start to feel a tingling sensation.